In Memory
Truman Wade Vause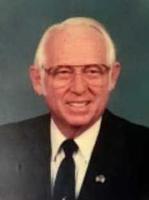 Truman Wade Vause
Private First Class
304th Station Hospital
28 Nov 1924 Ivan, Florida
27 Dec 2012 Tallahassee, Florida
Truman was born to Henry C. Vause, father and Corean Andrews Vause, mother, on November 28, 1924 in Wakulla County. He spent two years in the Army Post Exchange Service at the Camp Gordan Johnson in Carrabelle, Florida, during the 2nd World War. Truman entered the War in 1943 and received his Army Medical Training in Camp Grant, Illinois. He was then assigned to the 304th Army Station Hospital and was shipped to the United kingdom, where he served the Hospital Unit servicing the US Forces arriving for the invasion of Germany. After the Invasion, the German prisoners of war during the fighting in Europe. When the fighting ended his hospital unit remained in France and Germany serving US forces in the occupation.
Truman, as a Tech Sergeant spent most of his army services in the United Kingdom and the Europe managing the Army Post Exchange (PX) for the 304th Station Hospital. After his discharge and he returned home he joined the employment of the US Post Office Department in Tallahassee for 13 years at which time he transferred to the US Department of Justice at the Federal Correctional Institution. Truman retired from the US Justice at the end of 1979. After his retirement from the Justice he was elected as the Treasurer/Manager of the Tallahassee Federal Employee Credit Union and served in that position until the end of 2010.
Mr. Vause is survived by his loving wife of 62 years, Ione D.Vause, his daughter, Dr. Sylvia V. Collier and husband, Jerry, cherished grandchildren: granddaughter Alison Nicole Collier, and grandson, Jerad Wade Collier, his wife Lisa, and precious great granddaughter Madeline Rebekah Collier. Michelle Collier Lear, her husband John, and daughter Cassidy. Brothers Henry Vause (Gay), Doyd R Vause (Delinda) and sisters, Faye Morgan (Paul), Ray Wright, Ruth Lippinicott (Marvin) and Mary Ethel Vause. Mr. Vause was an active member of First Assembly of God for 62 years.
A visitation will be held on Monday, December 31st from 11:00 am to 12:00 pm at Culleys MeadowWood Timberlane Road Chapel, followed by a celebration of his life at 12:00 pm